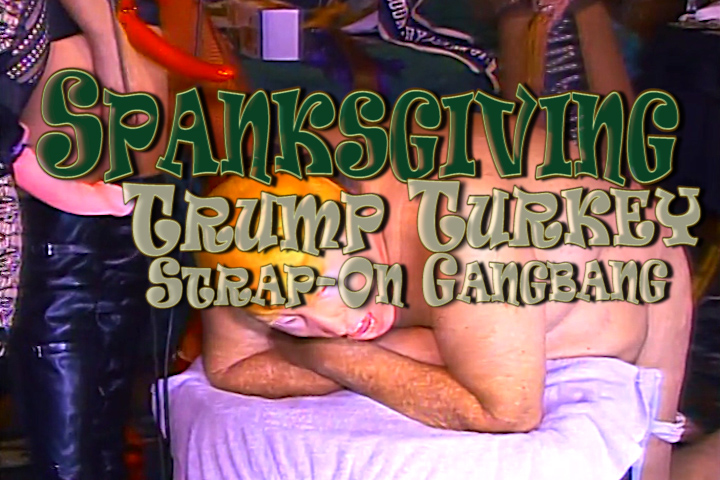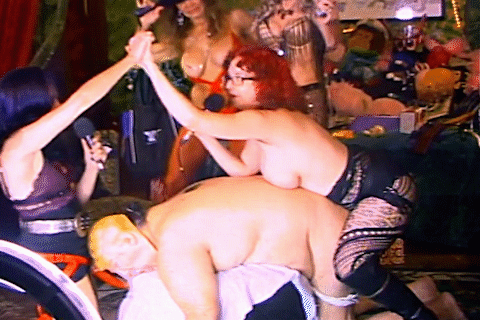 Spanksgiving Trump Turkey Strap-On Gangbang
It's Spanksgiving 2017 on the Dr. Susan Block Show, and in comes the Trump Turkey, being led by Putin wearing his "Trump Is My Bitch" shirt. Dr. Suzy, Madam Raven Rae, Rhiannon Aarons and Christine Dupree put the raggediest old towel they could find over a stool and make the Trump Turkey bend over it, twisting his arm like a turkey wing. Then Putin forcefully pulls down his gross old underpants, revealing the naked Trump Turkey to be the sorriest looking slab of white meat ever to sit in the White House. Then the Women of Spanksgiving 2017 spank that Trump Turkey (bravely played by Michael Q. Schmidt) with a passion that's been boiling for over a year since the electoral dysfunction that brought this misogynistic, narcissistic, Nazi-loving, nuke-threatening, orange-feathered barnyard-mannered fowl to the highest office in the land.  After he's been thoroughly spanked, Madam Raven Rae and Rhiannon take turns stuffing the Trump Turkey with their strap-on dildos, using (appropriately enough), Bacon Lube to ease the stuffing.
Bonobos who watched Spanksgiving Trump Turkey Strap-On Gangbang also enjoyed
Want to Watch This With Someone?
Call Us, We'll find some good company.