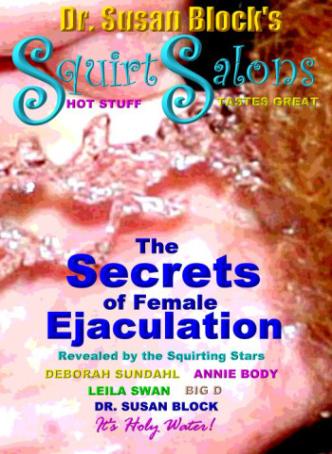 Squirt Salon
Ladies: Uncork your champagne!
Gentlemen: Get ready to get soaked!
A Sensational Release from the Private Studios of World-Renowned Sex Therapist & Ground-Breaking Cable TV Host
Dr. Susan Block!
Learn the Art & Science of Squirting
& How to Make Your Partner Squirt!
Two and a Half Hours of Spectacular Footage of and about G-Spot Female Ejaculation!
Male Ejaculation Too!
Historic First Super Close-Up Images of the Elusive G-Spot in Various States of Arousal
Learn the History and Culture of Squirting
Enjoy the Awesome Beauty of Three Lovely Ladies and One Gorgeous Gentleman Ejaculating in Ecstasy
Want to Watch This With Someone?
Call Us, We'll find some good company.